Jolly Mom
is giving away a HP TouchSmart600 Computer!
What an awesome prize and big props to Jolly Mom for hosting such a fantastic giveaway.
There is so much I could do with a machine like this. There are so many great features to this computer. From the online reviews it sounds like its great in the kitchen as well, the recipe box program is toted as one of the best as far as organization. And the TouchSmart feature, makes for easy scrolling/reading. The TouchSmart has voice recognition that will read a recipe too you, step-by-step. So if you have your hands full or dirty, the machine will read the next step to you!
How crazy to think that a computer could be in your kitchen and actually be of great assistance. It actually could pull recipes from the web and format them into the Recipe Box program seamlessly.
The monitor can be wall mounted to save on counter top space. I would use this to help out in the kitchen and to hopefully make my life a little easier. How cool to pull recipes from the internet and have them read back to you. What amazing technology.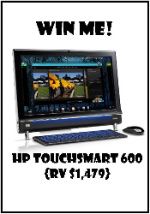 I just found this blog today, and will instantly become a follower.
Here's the link directly to the giveaway